New Generation Stiffened Thermoplastic Composite Products
Summary
The application of composite materials in the Energy, Transport and Commodity Sector contributes to the reduction of CO2 emissions by means of less weight (of specific importance to air- and road transport), lower energy consumption for production and sustainable products. Besides existing, small markets in various sectors, the successful applications in Aircraft industry are paving the road for series production and reproducible applications in the Automotive-, Energy Consumption, Sports Articles- and Commodities Industry.
However, the limited recyclability of Thermoset composites is a huge problem. These composites cannot be re-shaped after curing. This problem can be solved by the application of thermoplastic composites, based on re-usable and meltable polymer combinations. This relatively new class of composites is very promising and, therefore, requires research activities. Common production technologies like press forming and consolidation lead to large volumes of cutting waste and scrap.
More modern technologies like 3D printing with continuous fibers and tape laying can solve this problem very effectively. Thereby, the 3D stiffeners or reinforcements manufactured with these technologies can be applied to classical, press formed, thermoplastic shell structures in an overmoulding or consolidation step.
Above all, this combination can lead to integral production of large stiffened products, design optimization and more production opportunities for the SMEs.
Challenges are a better understanding of the process and material behavior, extensive process simulations, specialized hardware and control systems for faster, better and greener production, efficient integration of robotics and peripherical systems, practical assessment, dissemination, knowledge recording and environmental related performance indicators.
With an extensive consortium of 3 knowledge institutes and 7 SMEs companies, this project aims to provide the answers to these matters.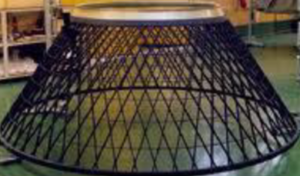 Project partners
Poly Products, Cato Composites, CEAD, CCM, Theuws groep, KCCM, Femto engineering, TU Delft, University of Twente
Duration
Duration 4 years, July 2022 – July 2026
Funding
RAAK-PRO subsidy, financed by Regieorgaan SIA, part of the Netherlands Organization for Scientific Research (NWO)
A short summary can be found here.