Hout Behoud (Wood Preservation) – Reuse of scrap wood in construction applications
Summary
At the end of life of buildings, a lot of construction waste is released during construction. For a large number of materials there are already recycling routes that are constantly evolving. This includes recycling of concrete, PVC, metals and reusable wood (A-wood). However, a substantial waste stream during demolition for which there are hardly any recycling routes yet is B-wood. This wood category contains coatings, adhesives (such as in fiber boards) and fixing materials, but for the most part consists of wood with in principle excellent properties.
Project partner Rouwmaat alone releases 300 tons of B-wood each year. To be able to dispose of this, it is offered to waste incineration plants. Project partner Innodeen has recently developed a production line with which extrusion profiles can be made from wood fibre composite. This wood fibre composite contains up to 70% wood fibres in a thermoplastic matrix. The market has already shown substantial interest. Until now, these wood fibres are extracted from unused virgin wood, which is furthermore subject to additional requirements.
The Lightweight Construction lectorate has years of experience in the field of thermoplastic composites. By combining the three parties mentioned in this project, there is a good basis for investigating to what extent it is possible to make wood-fiber composite from B-wood. This could therefore lead to a much higher quality application of this waste stream, while moreover it has a more favorable cost price as a raw material.
The aim of this project is therefore to manufacture wood-fibre composite from B-wood on a lab scale and to compare its mechanical properties with the already developed wood-fibre composite from virgin materials. If the manufacturability has been demonstrated and the mechanical properties are good, industrialization by the partners involved will be the next step.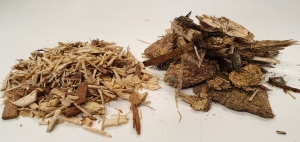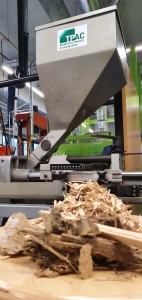 Project partners
Rouwmaat B.V., Innodeen B.V., Mombarg Beton elementen B.V.
Duration
1 year, Start in November  2019
Funding
KIEM-ce subsidy, financed by Regieorgaan SIA, part of the Netherlands Organization for Scientific Research (NWO)
For more information about this project, please click here.
For more information about this project, please click here for a leaflet.
Hout Behoud (Wood Preservation) project in the NEWS