Recycled artificial grass – 3D printed
Summary
The artificial grass waste in the Netherlands is growing and since April 2019, a number of companies (chain partners) have joined hands to change this, and the GBN Artificial Grass (GBN-AGR) has been established.  This results in a plant for recycling artificial turf in June 2020. The end products of this plant are circular raw materials such as circular sand, circular sand, circular SBR, circular TPE and RTA. These raw materials are pressed into moulds using traditional production methods and from which rubber tiles, edging boards, picnic sets are manufactured. Given the quantity of artificial grass mats, there is a need from the chain partners to realise more and higher-quality products.
The research focuses on a different production method '3D printing' to achieve the high-quality and innovative products. Partly because in the current manufacturing sector, 3D printing companies are not yet familiar with the circular raw materials, as the 3D printing filament is not yet available.
Through material research, development of 3D printing filament, testing of the filament, the first steps are taken towards a raw material that can be used for high-quality product development. Also, a product design for a product applicable to the artificial turf pitch, an infiltration crate, dugout or field edge will be created. And a prototype (at scale level) will be manufactured with the 3D printing filament derived from the circular raw material of the recycled artificial grass.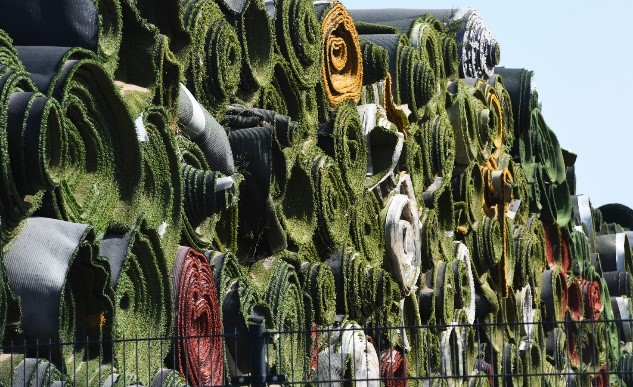 The ultimate goal is to shrink the artificial grass waste in the Netherlands, by:
Demonstrating to the manufacturing industry that recycled artificial grass can be a basic raw material when developing a product.
3D printing is a production method to make high-quality products from recycled synthetic turf, in addition to the already existing traditional production methods.
Project partners
GBN AGR, Joosten Ecodak, FabLab Enschede, Saxion Industrial Design, ThermoPlastic composites Application Center
Duration
6 months, Start in January 2022
Funding
KIEM-CE subsidy, financed by Regieorgaan SIA, part of the Netherlands Organization for Scientific Research (NWO)
For more information about this project, please click here.