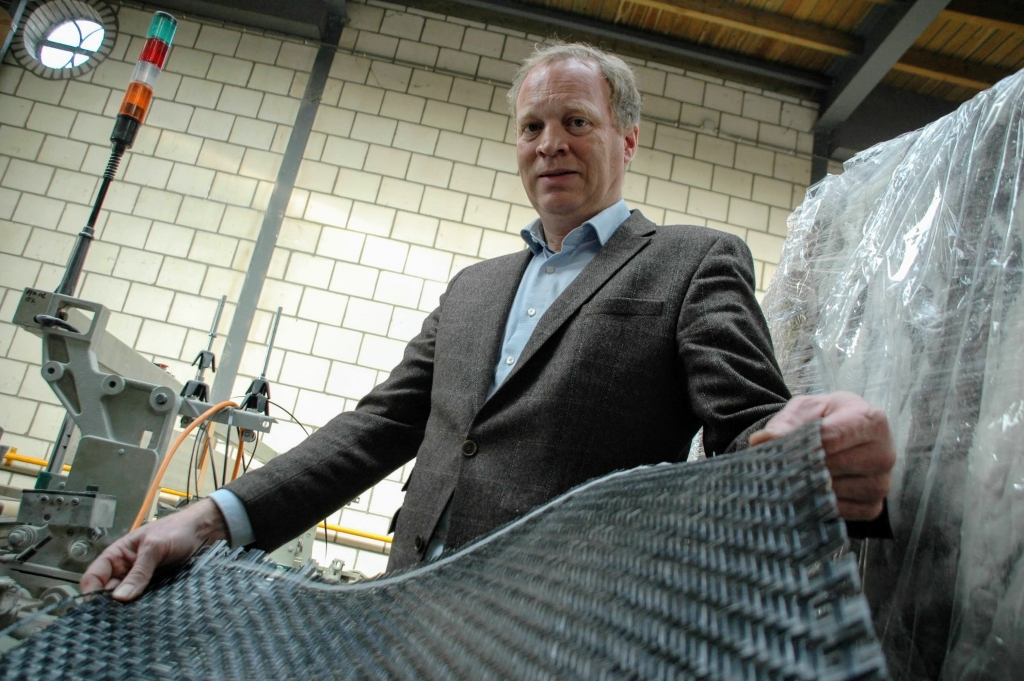 ACTK-director Meihuizen: weaving future materials
In the city of Enschede – once world's second-largest textile city – almost all textile weaving companies have gone, except ACTK. But also the future of this long-standing weaving company is at stake. Director Coert Meihuizen now invests in development and co-operates with TPAC of Saxion. "We cannot keep on going with our traditional customer base. We seek our future in the weaving of new materials."
ACTK (A.C. ter Kuile) is a traditional manufacturer of interlinings, fabrics for use in formal clothing. However, for a number of reasons the production decreases and the company seeks new markets to survive. Meihuizen. "We see a future in the weaving of new materials, new composites: weaving future materials." He works closely with the Dutch company CompTape, a producer of thermoplastic composite tapes, under the name CompWeave. This activity combines the technology of the tape producer with the weaving skills of ACTK.
Saxion's ThermoPlastic composites Application Centre TPAC is actively involved in supporting these developments. Professor Ferrie van Hattum: "We work frequently with composite tapes in process development, for example to 3D-print tapes for use in heavily loaded parts or as an integrated part in plastic injection "over"-moulding. But tapes are not fabrics. And many times fabrics are required in applications: this is what Ter Kuile does."
Weaving tapes is a special skill, says Van Hattum. "Traditional textile yarns are typically smooth and flexible and weaving machines have worked with these materials for a very long time on an industrial scale. So weaving those is in itself not a problem. However: weaving the new materials often is not quite that easy. Composite tapes differ significantly from textile yarns. As most weaving machines are not suited or not easily adapted to work with composite tapes, only a very limited number of composite fabrics are available. This is a significant hurdle towards a wider application of thermoplastic composites. Here, we see the potential of ACTK and the CompWeave material. We are currently running a project called Circular Thermoplastic Composite Production (CTCP) where we look into the use of recycled plastics, bioplastics and biofibres in the composite tapes. After merging them you have the tape but not a fabric and this is where Meihuizen steps in. He weaves the fabric that can be moulded into plates or products for many sectors, for example the car industry or office furniture."
Would you like to read the article in Dutch? Kunststof & Rubber featured our article, you can read it here.