Research at TPAC shows processing possibilities for scrap wood
 ENSCHEDE – In October 2019 research center Saxion TPAC together with recycling company Rouwmaat and Innodeen, an innovator of plastic- and plastic composite products, started the project B–hout Behoud (B-wood Preservation). Based on the thought that recycled wood should not be incinerated but re-used, the partners developed a way to process scrap wood into fibres that successfully can be used in plastic composites. The research has been conducted by Marco Del Vecchio at TPAC and recently he completed the study. "We know now that processing the A- and B-wood fibres can very well be done in composites and with good results."  Meanwhile partner Innodeen started the first production tests of recycled Compodeen DBP wood fibre composite Siding.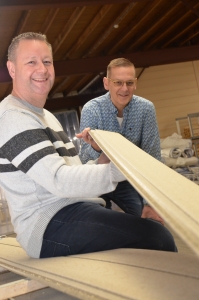 Jeroen Joling (Rouwmaat Recycling) and quality manager Jeroen Marissen of Innodeen present the first Compodeen DBP wood fibre composite Siding made from recycled A-wood. (photo: Saxion TPAC)    
B-wood out of scrap wood forms a major quantity in the world of demolition waste but coatings, all kinds of glue, paint and metals and plastics from the hinges, top surfaces and the locks can be present. The goal of the research was to find possibilities to produce wood-fibre reinforced composites (WFC) with the use of the shredded B-wood. If this turned out to be possible, the scrap wood would be suitable for re-use in much higher quality applications and thus the waste stream would become more valuable. Since the start, researcher Del Vecchio has shown now that shredding the waste material leads to fibres that can very well be used in processing. With compression moulding, injection moulding and extrusion, he successfully processed composites with B-wood and polypropylene as a matrix. Also, he established the processing temperature window for B-wood composites by evaluating the threshold temperature of possible constituents in the recycled wood.
A-, B- and C–wood
A-wood is clean solid waste wood without paint and coatings. B-wood comprises is solid waste wood containing glue, coating or paint and MDF, fibreboard and hardboard. Prior to processing it can contain some metals like screws and hinges. As such, it's possible that its processing can be dangerous for the machine or the operator due to fumes or toxic gasses. It also can be harmful by the effects of the high temperature on PVC residues during extrusion, when PVC is present. This substance is not found in the tested fibres, in agreement with partner Rouwmaat guarantee of PVC-free materials (after processing with a shredder, magnet and NIR).
The C-wood was not used in the research because, in addition, it can also contain copper- and chromatic arsenates. "Therefore, it is a potential harmful material so we excluded the C-wood. Besides, there is enough material available in the qualities A and B. For a production on a large scale, C-wood is still a big challenge, not required for the study of this project", says Marco Del Vecchio.
Slightly better
The plan for both the A- and the B-wood was the same. Del Vecchio: "Based on the experience of Innodeen we made fibres in the desired sizes by shredding: 2,8 mm, 1,7 mm, 1,4 mm, 1,0 mm, 0,5 mm and smaller than 0,5 mm. The smallest parts delivered only powder. For processing we only used the fibres from 0,5 mm to 1,4 mm. We added different quantities of polypropylene namely 50, 55 and 60 percent." Extrusion was tried successfully, with a small as well as a large extruder. The process of mixing, compounding, and extrusion worked well at a temperature of 190 degrees Celsius, says Del Vecchio. "We also tested injection moulding and we made test bars for the mechanical tests. These test bars contained different quantities of fibres (40-50-60 percent) and showed at the tensile strength and bending tests that the A-wood consequently performed slightly better than the B-wood. And every time the differences in strength were the same: roughly you can say more fibres, more stiffness.
No chlorines
According to literature, in the B-wood, mainly formaldehydes, polyurethanes and sometimes also PVC's can be found. These substances are present in paint and glue. "Formaldehyde degrades at approximately 200 degrees Celcius. So if the process temperature would be at 190 degrees, this would be okay. Polyurethane also will do well at this temperature but in the case of PVC we have to deal with a relatively low degradation temperature of 160 degrees. So at 190 degrees the PVC becomes a problem for the health of the personnel because chlorine gasses are toxic. Furthermore, you probably get bubbles in the material and the mechanical properties will decrease."
'Rouwmaat has a very well-developed separation system that guarantees wood fibres free of chlorines'
Another part of the research had to show if PVC was present in the B-wood. Del Vecchio:  "I collected at random several samples of B-wood at the facility of Rouwmaat. I tested these samples and found no traces of PVC.  So one can use this Rouwmaat B-wood material without any problems at 190 degrees."
If there were to be found any traces of PVC in another sample, most probably the quantity of the PVC  would be under LC50 (Lethal Concentration). "So in such a case there still would be no problem. But I expect it will not come to this as Rouwmaat uses a very well-developed separation system that guarantees that the B-wood fibres they produce are free of chlorines. So problems are not to be expected."
Recommendations
The researcher from TPAC concludes that the use of recycled A- and B-wood fibres in a polypropylene resin is very well possible on a large industrial scale. "My first recommendation now is to test the use of A-wood fibres on the industrial scale. Our partner Innodeen does this now with recycled A-wood fibres that already have been delivered by Rouwmaat. The moment this is processing satisfactorily, one should take the next step and shift to the B-wood. The mechanical properties will be slightly less good in comparison with A-wood but there are still a lot of possibilities for the use of B-wood fibres, maybe not in high performance construction materials but for products as tables for example."
Rouwmaat and Innodeen are testing   
Partner Rouwmaat in the TPAC-project mid-October delivered two big bags filled with recycled A-wood fibres at Innodeen. These fibres meet the specifications from Innodeen, says Jeroen Joling. He is leading the internal group for corporate social responsibility at Rouwmaat and as such he is involved in the project Behoud B-hout. "Innodeen already started the testing with A-wood fibres. The goal is that later in time the same tests will be performed with the B-wood. The earlier performed test results show that the B-wood can very well be used and this is important because B-wood is a large quantity in our waste stream."From all kinds of customers Rouwmaat received containers filled with cupboards, closets, doors, frames, baskets and chests and also loads of scrab wood out of buildings, like beams, ceilings and floors. Joling: "We have the skill and the technology to shred this material while all kinds of contaminants automatically are being ejected. We can set the machine in a way that all chlorine- and PVC-containing parts are ejected with the use of infrared recognition."
Innodeen now is testing the A-wood fibres that are produced and delivered by Rouwmaat. Joling: "Our fibres are not quite as small as our friends at Innodeen want them. Our fraction therefore had to be further reduced and we found a solution for that.
Innodeen: first production test
As said, the A-wood fibres out of clean pallets were delivered at the Innodeen facility in Lochem where the fibres have been used for a production test of wood fibre composite siding (Compodeen DBP WFC Siding) in combination with post-consumer recycled polypropylene.
'PP has good properties and the adding of recycled wood fibres is suitable in a marketing point of view'
Quality manager Jeroen Marissen of Innodeen: "We chose Compodeen DBP Siding for two reasons. In the first place it is an interesting market where the circular idea now is on the rise and secondly it is relatively easy for us to perform tests on our Siding. The used A-wood fibres as well as the post-consumer waste recycled polypropylene are products from recycling. The Siding we produce in this project will be thoroughly tested and compared with the properties of the material we now use in our existing bio-based WFC composite. I expect this testing will take at least six months to a year. The existing Compodeen WFC products are produced out of  virgin polypropylene  and PEFC-certified fibres from residual wood flows from sustainably managed forests."
The production of a composite that contains recycled B-wood fibres, is a goal for the future, says Mr. Marissen. "This is a target for us, but because of the potential presence of contaminants as veneer, glue, coating and impregnation agents, plus the varying quality and composition of this recycled material flow makes the B-wood fibres not yet suitable for our production process."
TPAC-researcher Marco Del Vecchio
Marco Del Vecchio (27) was born, raised and educated in the city of Lecce in the south of Italy. In October 2019 he started at TPAC as a researcher with a bachelor degree in Industrial Engineering and a master degree in Materials Engineering & Nanotechnology. During his education, he studied in Italy, Spain and in Romania and after graduation he decided to try to keep working abroad.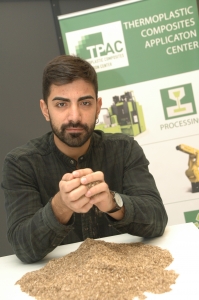 Marco Del Vecchio of Saxion TPAC with B-wood fibres
Marco has a special interest in bio-materials and in sustainability in general – and thus in recycling. "Recycling is very current in this part of Western-Europe. That is why I looked around in this region and send my resume to relevant organizations in Germany, Belgium and The Netherlands. I got in touch with Ferrie van Hattum of the ThermoPlastic composites Application Center here in Enschede. "The big goal for us all is full circularity and hundred percent re-use of all materials, says Del Vecchio. "The application of fibres made out of recycled B-wood in new composites is again another mile of the long road we all have to follow to reach this goal."
Where does the paint go?  
Research showed that after shredding the B-wood only very little paint particles were found in the fibres. The paint does not degrade at the temperature of 190 degrees Celcius in the extruder but mainly 'disappears' to the remaining material as a dust that comes out of the shredder. Also, this dust material does not need to be incinerated or thrown away, says researcher Marco Del Vecchio of Saxion TPAC. "Certainly not. For example, one can use it in 3D-printing by mixing this dust with the polymer PLA."
 The research project 'Behoud B-hout' is partly funded by Regieorgaan SIA, part of the Dutch organization for  scientific research NWO.