Circular insulation panels for construction
Summary
Isobouw is a producer of insulating sandwiches for the construction industry and wants to improve the circularity of its products. TPAC has extensive experience in composite processing, and one of its research themes is recycling. Because of this expertise, Isobouw approached TPAC, asking to investigate possible recycling techniques.
The Sustainable Building Technology (SBT) research group was then asked to participate in the project to contribute their knowledge of sustainable housing systems. Finally, the Gramsbergen-based company CF Kunststofprofielen was involved in the project to process the recyclate into a new product.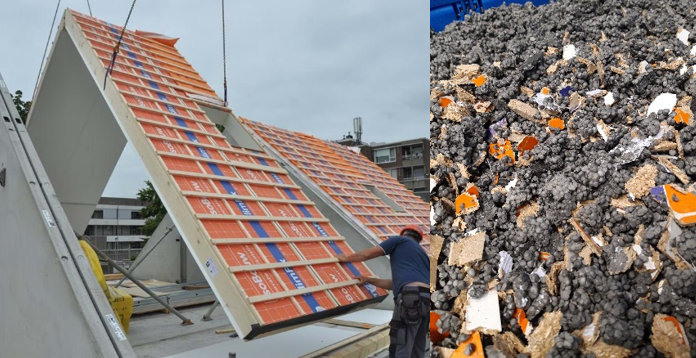 Isobouw develops and manufactures insulating building products. An important part of their product range are the sandwich panels that are composed of an EPS foam core between skin panels and an edge trim of wood. During production but also from the end-of-life products, a waste stream consisting of wood fibres and polystyrene is created. This project researches how the mixture of these components can be processed into new products.
TPAC has experience in processing fibres into a thermoplastic matrix. This thermoplastic composite offers many possibilities both in product manufacturing and waste recycling. In the case of Isobouw, however, it involves material consisting of EPS and wood-like material. The latter is often a mixture of chipboard and slates of softwood. The similarity with composite is that the wood is similar in structure to the usual fibres in composite. The resulting question is therefore: Can the wood-EPS mixture be processed as a fibre-reinforced thermoplastic (composite) and used in new parts?
The question is whether the 'TPC-Cycle' recycling technique can be used for the recycling of insulation panels. The research questions for this project are:
Can the insulation panels be shredded?
Can the wood fibres be mixed well with theromplastic materials?
Does additional thermoplastic material need to be added, to allow the recyclate to be processed into an injection-moulded part or an extruded profile?
Project partners
Isobouw
Duration
6 months, Start in September 2021
Funding
Financed by 'Fieldlab Circular Innovations in de Maakindustrie.'