Auteur: Jos Eertink            Photography: Thomas Busschers            Date: 4 July 2022           
Source: Saxion News
At Saxion's Lightweight Structures research group (better known as TPAC– ThermoPlastic composites Application Center), flax fibres form the basis for sustainable sheet material, and composite tapes made of recycled plastic go through the weaving machine. These are innovations in the spirit of Twente's manufacturing industry. Recently, professor Ferrie van Hattum and his colleagues Ilse ten Bruggencate and Rik Brouwer completed two innovation collaboration projects: Rightweight and 3DFlax. Project Rightweight included, among other things, the development of a composite made entirely of recycled plastic. In the ELIIT project 3DFlax, biomaterial was processed into composite. A story about flax from Turkey, local manufacturing, and a greener automotive and aerospace industry.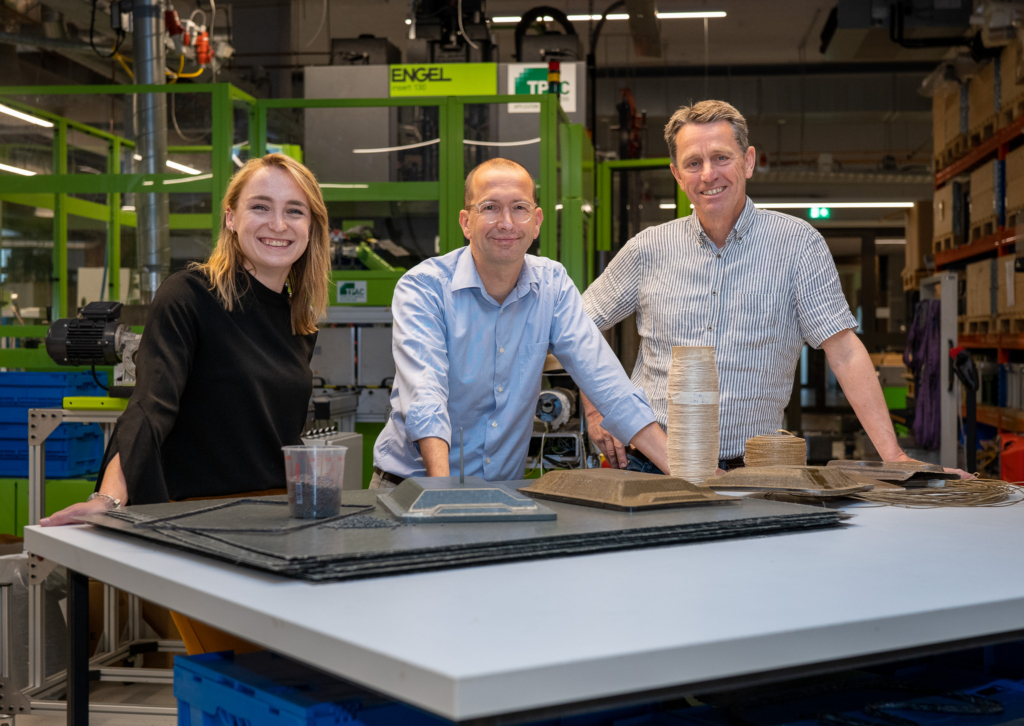 From left to right: Ilse ten Bruggencate, Ferrie van Hattum and Rik Brouwer
"We are the R&D department for small and medium-sized manufacturing companies," says Ferrie van Hattum, professor in Lightweight Structures. "If you're a small company, you can't afford having your most expensive people doing just research for six months. So, we do that for them. That's also how the Rightweight project came about."
Although the Dutch economy is not characterised by large-scale vehicle production, it does have an innovative manufacturing industry; something that can been in the SMEs in the eastern part of the Netherlands. The question of what innovative SME-sized manufacturers can do for the automotive or aerospace industry lead to the European Rightweight project, in which the research group Lightweight Structures is the lead partner. Ferrie adds: "We asked OEMs: which technologies are you looking for? We then passed the requests we got back from the OEMs on to the small and medium-sized enterprises of the participating countries: these companies could the come up with their solutions."
Ferrie van Hattum: "One of the first and most important steps is the transition from oil-based plastics to recycled plastics."
Green manufacturing
The manufacturing industry is currently increasing turning "green". Companies in the sector note that their customers have to meet more and more sustainability requirements. The use of a material like plastic is therefore under increasing pressure. "Today, production is still very much petroleum-based," Ferrie explains. "That is also part of the environmental problem: it does take a very long time for plastic to be broken down again by nature." For the manufacturing industry, the need for sustainability is expected to translate into a kind of 'CO2 passport'. This would show at the end of a production chain how large the corresponding CO2-emissions were. Ferrie: "One of the first and most important steps then is the transition from oil-based plastics to recycled plastics."
Exactly that was one of the challenges within Rightweight. The knowledge to tackle such a challenge exists within different industries. "Rightweight tried to make a connection between automotive and aerospace," explains Ilse ten Bruggencate, researcher Lightweight Structures." Both industries excel in a different aspect. Aerospace is very advanced with high-tech materials and automotive excels in fast and large-scale production. The idea was to share knowledge from both sides. To help automotive further with material knowledge and aerospace with production speed."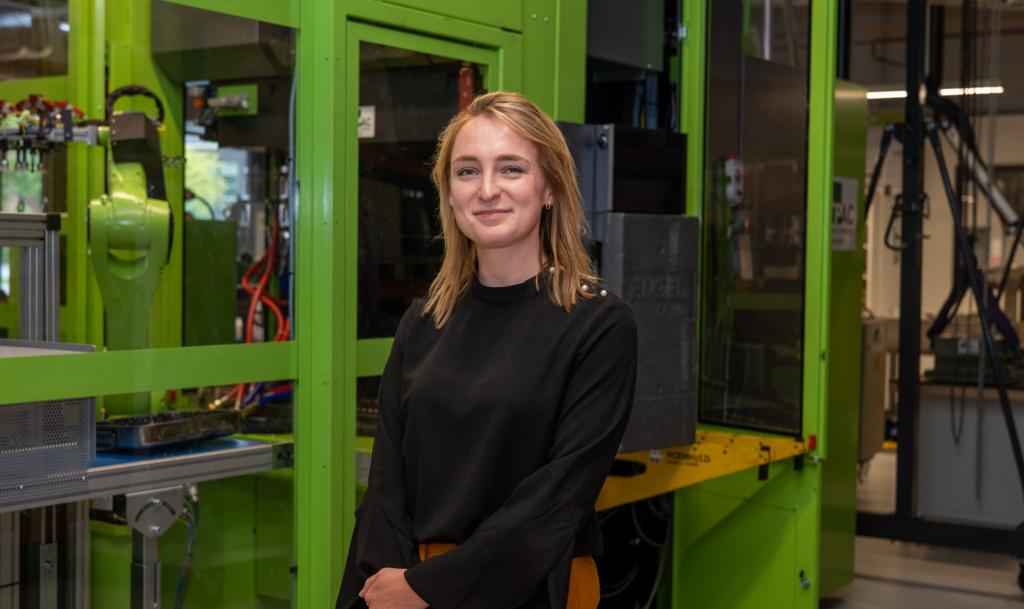 Ilse ten Bruggencate, researcher Lightweight Structures
How do you take the first steps when it comes to producing composite parts from recycled material on a large scale? One of the steps Ilse took was partnering with the Enschede-based startup SPIRAL:" They collaborated with us to research how to recycle an aircraft waste stream, and how to make an injection moulding granulate from this waste stream. We are really in the initial development phase now. The goal is to get it from lab scale to production and prove the potential of the material. End users eventually have to convince their customers of the recyclate's potential. From there, you can take next steps."
 Booming business
"Thermoplastic composites are growing steadily," Ferrie stresses. "There are already parts made of them in the aerospace industry. The automotive industry is also starting to use it more and more for load-bearing parts, and other industries are following in its wake. They are waiting until it is all ready for the market. But the first big applications can be expected in the aerospace and automotive industries." In that context, Ferrie mentions Stellantis, an automotive multinational that contributes to the manufacturing of 14 car brands "Automotive parties are preparing for the environmental requirements coming from Europe starting from 2030," says Ferrie. "Half of the materials used must come from own waste streams by then. For a material like steel, which is already close to the edge of its technical limits, it will be very difficult to meet the properties required for the cars of the future when recycled. Think of electric cars: the lighter, the better."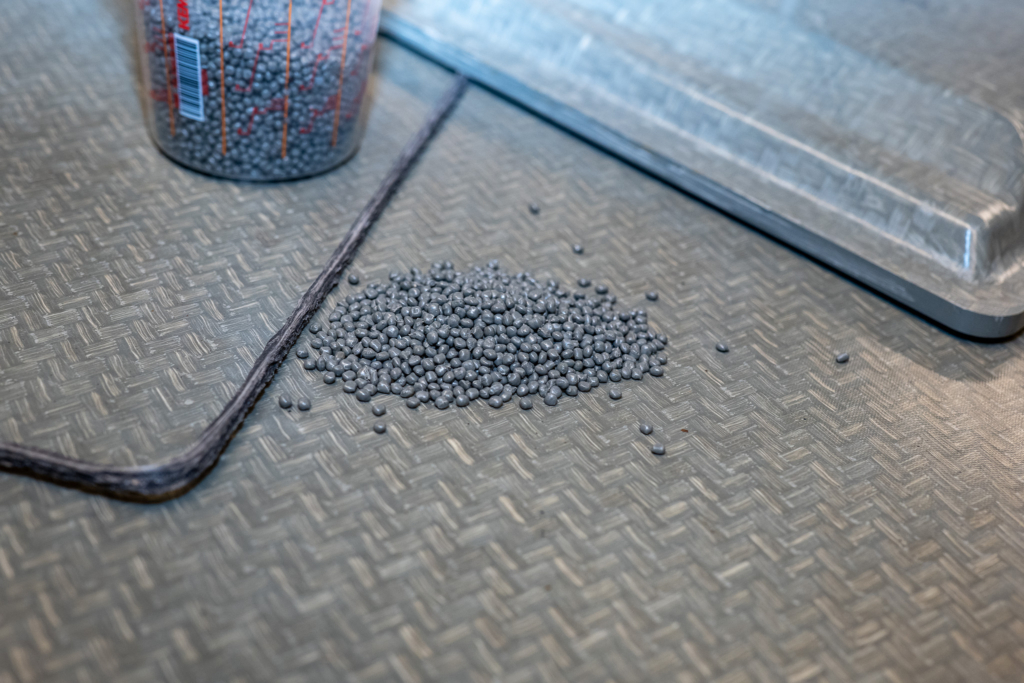 Granulate made from post-consumer recyclate
Therefore, the automotive industry is slowly but surely shifting its focus to the use of composites. "There are large companies in the Netherlands that can already supply a steady stream of recycled plastic," says Ferrie. "For example, made from shampoo bottles or other post-consumer plastic waste. We made fibre-reinforced composite tapes from those, together with the Dutch company CompTape. For those tapes, we developed weaving technology, as this was not yet available at affordable way for initial production. That's how we arrived at the first demonstrators." By 'weaving technology', Ferrie refers to a special weaving machine, in which tapes made of continuous fibre reinforced recycled plastic are cross woven into mats, offering advantages in terms of processability. These mats, in turn, can be pressed into high-quality composites sheets. "From those sheets we could make parts by overmoulding," Ferrie continues. "We showed those parts on a small scale to Stellantis as an end user." This led to an enthusiastic response and the further development of a demonstrator specifically for the automotive industry.
Not glass fibre, but flax fibre
"For 3DFlax, it's about biocomposite," explains Rik Brouwer, senior lecturer, and researcher at TPAC. "Biocomposite is really a new material, which has yet to find its way into large-scale applications." Within the ELIIT project, a 3D printing technology has been developed that allows natural fibre composite rovings to be 'placed' in any desired geometry. This is with the aim of achieving the strongest possible composite material, that can be exposed to large forces. "What you see," says Rik, "is that biocomposite finds its applications particularly where there are additional environmental requirements." And how does biocomposite compare with existing, high-performance fibre materials? Rik: "With certain biocomposites you can get very far constructively, then you really come close to glass fibres. These are mainly flax fibres, which are the best in terms of performance. But the flax industry has not reached that point yet. There, they are still focused on producing linen."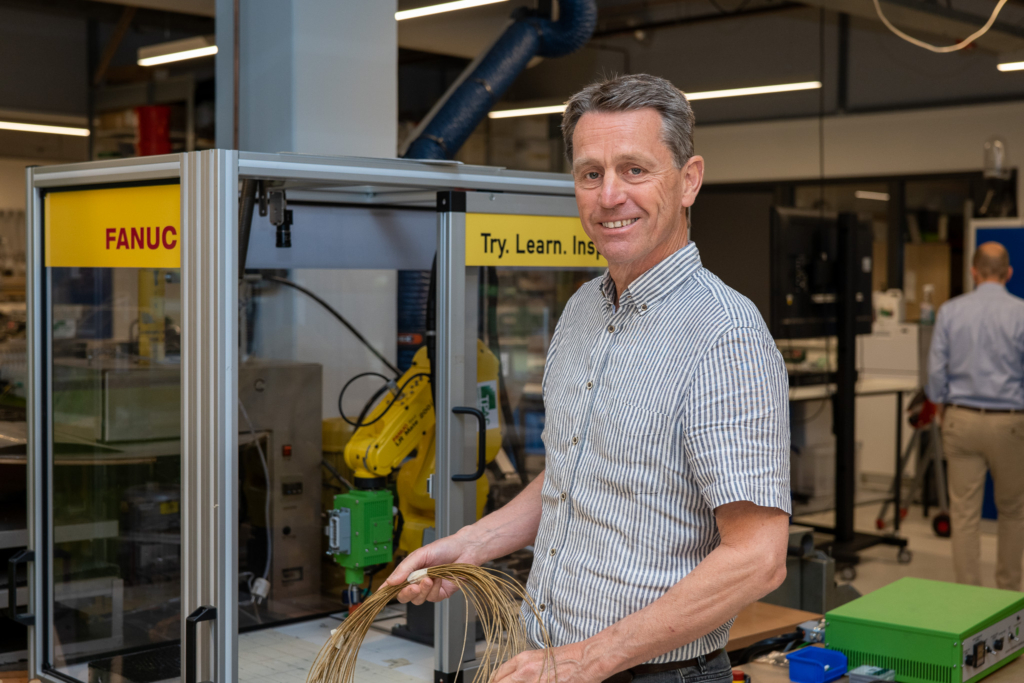 Rik Brouwer, senior lecturer and researcher Lightweight Structures
Ferrie adds: "At that end of the spectrum – biomaterials – few raw materials are available. One of the few partners in our network who can help with this is the small Turkish company BPreg. A startup still. The ELIIT project was deliberately aimed at giving smaller companies a push in the right direction. Together with BPreg, we improved the available raw materials in such a way that we can use them properly in our processes. We really are that link between end users and smaller companies."
Green Deal

Projects Rightweight and 3DFlax are in line with the European Green Deal, which formulates policies to lead to a climate-neutral Europe by 2050; by 2030, CO2 emissions must be reduced by at least 55% compared to 1990.

The 'home base' for both projects was Saxion's ThermoPlastic Composites Application Centre (TPAC), within which the Lightweight Structures research groups works with its partners.