Automotive composite demonstrator made out of 100 percent recycled plastic
ENSCHEDE – The TPAC laboratory of Saxion University of Applied Sciences recently presented the results of a three-year study, into the possibilities of using plastic recyclates in fiber-reinforced composite products. Many promising results have been achieved, one of the most important being the first-time automotive demonstrator, an example of a structural part that could be used in a car and made entirely of recyclates. The method used to produce this part offers possibilities for the use of recyclates in added value applications.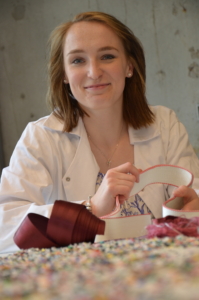 Ilse ten Bruggencate: "We looked at a variety of recyclates and investigated whether they were suitable for making fiber-reinforced tapes."
Project leader Ilse ten Bruggencate of TPAC presented the final results to the partners in the so-called Fibrerec project, where the name stands for fibers and recycling. "The aim was to investigate whether, in addition to recycled polypropylene (PP) – which we had already shown in a previous project – we could also produce fiber-reinforced composite tapes from other recyclates such as the widely used plastics polyethylene (PE) and PET. In addition, we wanted to know what the possibilities are for the so-called rTapes in parts that are made using the commonly used injection moulding or rotational moulding techniques. And thirdly, we wondered whether rTapes could be used in series production of parts that in turn are also made from recyclates. "The researchers looked at a variety of recyclates and investigated whether they were suitable for making fiber-reinforced tapes and, if so, what could be possible with those tapes. "Tape made from glass fiber reinforced PP have of course been around for a long time, and a lot of research has already been done into what is possible with this material. But within the Fibrerec research we actually looked at other recycled polymers and we mapped out when you can or cannot use these materials in this type of applications."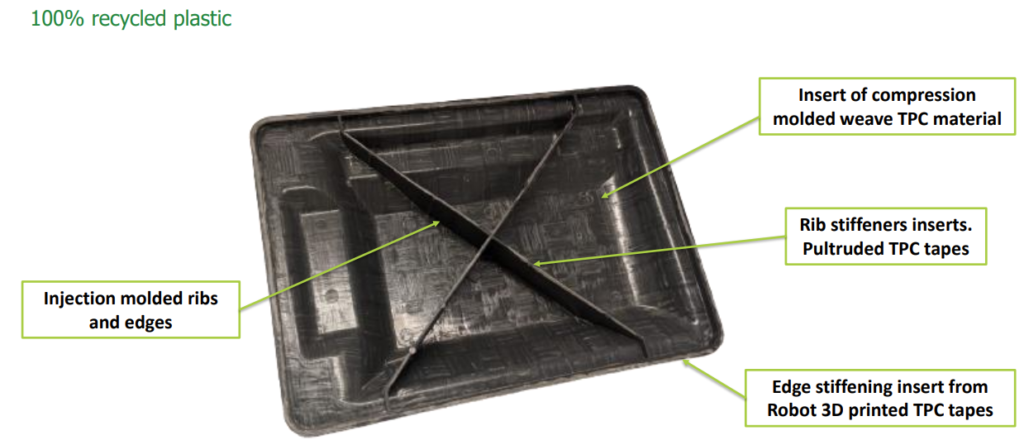 Make our own tapes
The process took place in four steps, according to the project leader. "You want to know how good a material is in relation to other recyclates and materials. Together with our partners, we started making tapes and we looked at what could be done with them. We also examined four different types of reinforcements, the inserts, which were made in different ways: via wrapping, via dual 3D printing, via robot printing and via weaving. The question every time was how to process such an insert in the best possible way."The last step of the research concerned the demonstrator cases, which are demonstrations of what could be possible. The TPAC researchers decided to make a fiber-reinforced complex-shaped tray, made entirely out of recyclate, a shape that could, for example, be part of a door or a carseat. "Instead of using new material, we tried to produce both the tray and the inserts exclusively from recycled plastic. In this case it included a weave, a printed insert and an insert that we made through pultrusion. These three inserts were then put together in a mold in the injection molding machine to overmould them with a recyclate as well. The result is an almost one hundred percent recycled product. "
'We have a first-time automotive demonstrator: a lightweight composite automotive part made completely out of recycled plastic in an industrial way"
Worldwide unique automotive demonstrator
TPAC director Ferrie van Hattum is enthusiastic about the results. "I definitely expect reactions from the plastics sector to the results: there are certainly partners who will want to take further steps with us. I would especially like to emphasize that our demonstrator is a unique product, as it is a semi-structural or structural part that is completely made out of plastic recyclate in an industrial way. As far as I know this has not been done before and this is now have something we can really further develop upon. As an example I am thinking of improving the use of recyclates in more added-value applications and of reducing the environmental impact of existing components. I hope and expect this will contribute to the wider impact of this project. "
Project Fibrerec was supported by a RAAK-MKB grant, co-financed by Regieorgaan SIA, part of the Netherlands Organisation of Scientific Research (NWO).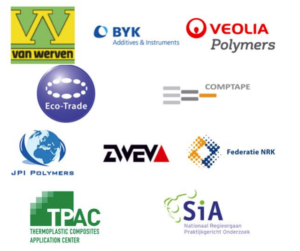 Project Fibrerec
Thermoplastics are relatively inexpensive, lightweight and durable materials that can be easily used in a variety of products. The greatest amount of polypropylene (PP) and polyethylene (PE) is found in non-structural applications such as packaging and electronics. A big advantage of thermoplastics is their recyclability and re-processability. There is a lot of material available for recycling because it involves hundreds of thousands of tons per year and a lot of material is still incinerated or landfilled. Recyclates generally have worse properties than new (virgin) materials and therefore often have a lower market value. That is why many applications are still made from new materials.However, industrial interest in fiber-reinforced thermoplastic composites is constantly on the rise – particularly in the aerospace and automotive sectors. In a composite material, the fibers provide the stiffness and strength, while the polymer provides shape, load transfer, chemical resistance and appearance. By reinforcing thermoplastic products with an insert only where it is really necessary, the material thickness can be reduced in other places. This ultimately means less material is needed and energy is saved through shorter heating / cooling times.Previous projects have already shown that composite tapes can be produced from PP recyclates and that pollution-weakened recycled polymer parts can be compensated for the weakening by using so-called tape inserts, which are inserts made from tape.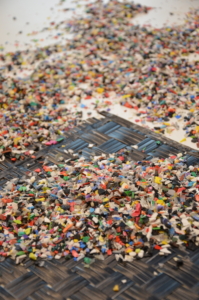 The project aimed to answer the following research questions:
1. In addition to PP, can continuous fiber-reinforced composite tapes also be produced from other thermoplastic recyclates such as PE and PET?
2. What are the options for rTapes in injection molded and roto molded parts?
3. Can rTapes be used in serial production of parts made from recyclates?
Duration of research June 1, 2018 – April 30, 2021