Fourth-year mechatronics students Rene Groeneveld and Rutger Venekatte from the ROC Hengelo are doing an internship at Saxion's TPAC in Enschede.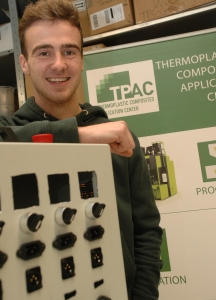 "Our internship is not actually about plastics or composites. We are more involved as a technical service for the installations at TPAC", says Venekatte. A range of machines and test setups have been installed and assembled in TPAC's laboratory. In certain cases technical improvements are possible in terms of safety, cleanliness and efficiency. After an introductory internship of ten weeks, the two interns will then carry out their 20-week graduation assignment at TPAC. They will make their own designs and write their theses about it. After graduating, Rutger Venekatte first wants to work in practice for a year and then pursue further studies in Electrical Engineering at the Hogeschool Utrecht. Rene Groeneveld is considering studying mechanical engineering at Saxion University of Applied Sciences.
Interested in an internship or graduation assignment? Feel free to contact us!