In 2021 a number of students started their internship / graduation assignment or 3S project at TPAC. Varying from Mechatronics, Fashion & Textile Technologies, International Business, Commercial Economics, Creative business to Mechanical Engineering, from ROC Twente to Saxion.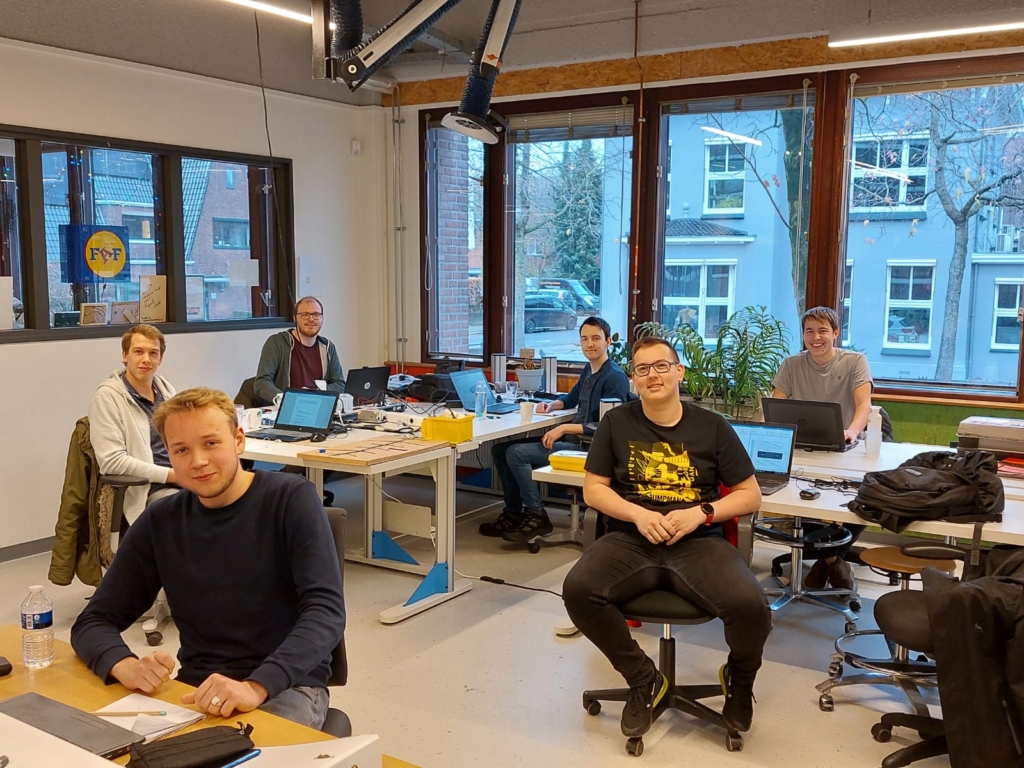 From left to right: Niels Nijhuis, Luuk van den Berg, Jarne Vennegoor, Lars van der Heijden, Donato Titulaer, Ties Reith.
In September Ties Reith and Donato Titulaer started their internship at TPAC. Both are in their third year of their Mechatronics study at ROC Hengelo. Ties is looking at a cutting mechanism for the LFT extruder. After his internship Ties is going to start his final year of Mechatronics and will execute his graduation project. Donato is designing and manufacturing a junction box for plugging in heating elements and thermocouples that will electrically heat injection molds. This box will be used on the ENGEL Insert 130, to ensure that changing molds can go quicker. After his internship, he is also going into his final year of Mechatronics and will start his graduation assignment.
Jarne Vennegoor started his internship in September. He is studying Mechatronics at Saxion and is currently in his fourth year. For his assignment he is working on the FANUC robot at TPAC. This robot is equipped with a continuous tape printing head. Jarne is focusing on the control and programming of the robot. After his internship, he will start on the final part of his study, his graduation research.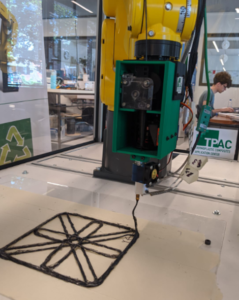 Niels Nijhuis is doing his graduation assignment at TPAC. He is in his fourth and final year of Mechanical Engineering. For his graduation assignment he is looking into the 'pultrudinator', a lab scale pultrusion machine. This device makes from a flat 12 mm tape, a round filament, that can be used for various applications, for example printing with the FANUC robot. Niels is redesigning the pulling mechanism on this device, and will also manufacture and install this mechanism. Niels is still contemplating what he will do after he graduates. Perhaps continue with an additional study, Technical Business Management, start a master or look for a job.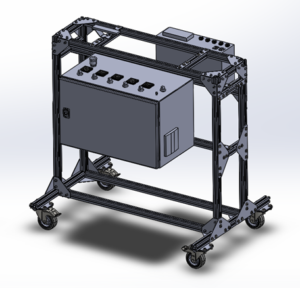 CAD drawing of the 'pulltrudinator'
In November Luuk van den Berg and Lars van der Heijden started their combined internship and graduation assignment. They will be working on smaller projects until February, and then they will start their final project. Luuk van den Berg is a fourth year Mechanical Engineering student from ROC Hengelo. For his graduation assignment he will be looking into converting a 3D tape printer into a printer combined with an extruder. Lars is going to be working on upgrading an existing low shear extruder so it can be used to extrude shredded composite flakes. Both are not sure yet what they will do after they graduate.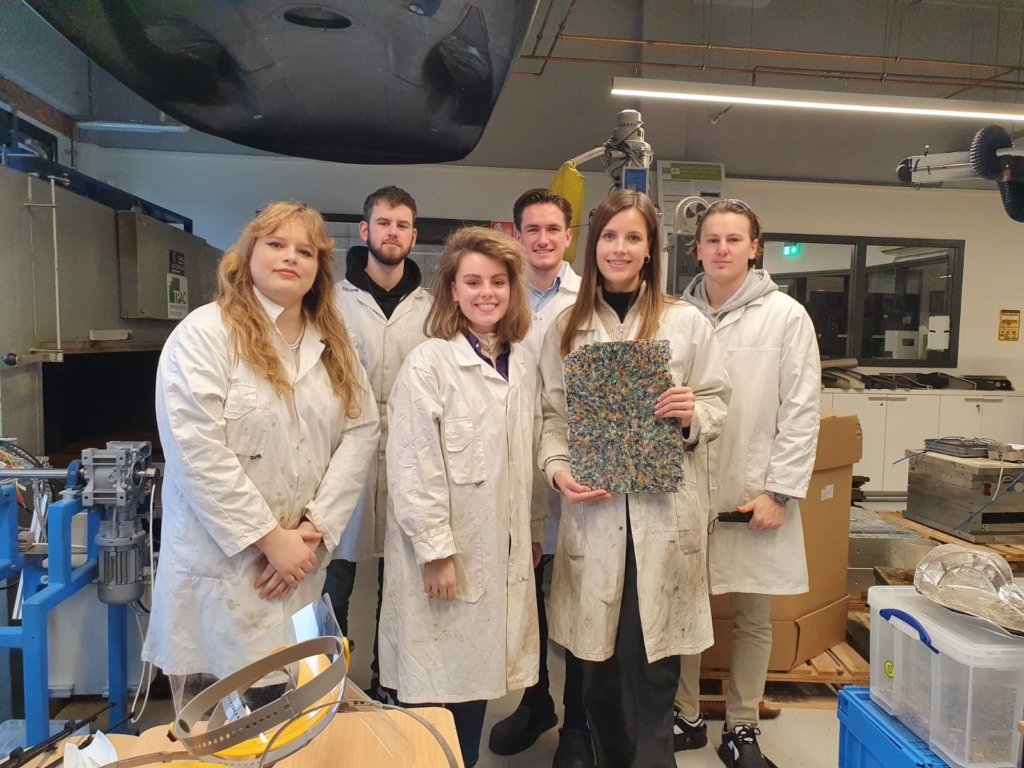 From left to right: Diede Venderbosch – Creative business – Media & communication, Joris Manenschijn – Commerciële Economie, Sofie van Brummen – Fashion & Textile Technologies, Gijs van den Broek – Commerciële Economie, Henrieke Bruhn – Fashion & Textile Technologies and Niels Kroeze – International Business
The 3S group works on the recycling of the plastics from the Ijssel river. Labels and caps were sorted out from the PET bottles, shredded, cleaned and compression molded. Final goal is to obtain buttons for textile applications.
We wish them all the best of luck with their assignments!