On 24th November, TPAC organised the webinar "Lightweight Opportunities for Thermoplastic Composites", as an educational activity that falls within the WP2 of the Righweight Interreg North Western Europe, a project which goal is to intensify the cooperation between the automotive and the aerospace sectors for reaching environmental and affordability targets.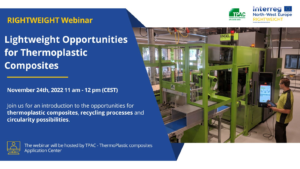 Thermoplastic Composites offer great opportunities for large series manufacturing of components and products for many applications thanks to their good mechanical properties, low maintenance costs, light weight, geometric freedom and recyclability. That's why, this webinar had the specific focus to the introduce this class of materials, their manufacturing and recycling possibilities.
The majority of the audience was belonging to SMEs and Universities and was positively participative, thus demonstrating a great interest toward the potential use of lightweight materials.