Fourth-year mechatronics ROC students Lars van der Heijden and Luuk van den Berg graduating and ending their assignment at Saxion's TPAC (Enschede).
Luuk van den Berg and Lars van der Heijden finished their assignment at TPAC and graduated with good grades at ROC Hengelo: Luuk worked on the design and manufacturing of an extruder, that could be mounted on a robotic arm or 3D printer. Tests are promising. Lars is finishing his research in upgrading an existing low-shear extruder that eventually will be used to process shredded composite flakes: only the assembly is still to be completed.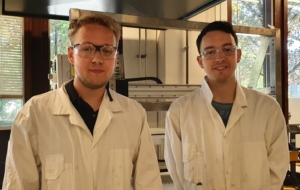 "I really enjoyed my assignment, it was fun to be here" said Lars. And with a look of complicity, Luuk added: "yes, it was interesting: you can learn a lot, while being in a very active, hectic and nice environment, incredibly stimulating. There is no way to get bored".
And with the end of the studies and the assignment, the beginning of the nice weather and the summer, also the plans for the future start to come out: neither of them is sure what their future will look like. They will probably take a gap year: working while thinking what will be the best for their career.
"I will do some practical work indeed, to experience what the 'working' world feels like! But let me also give an advice to the next students: avoid delays, always start on time and don't be afraid of asking questions. People around are nice and always willing to help" ends Luuk, with a satisfied smile.
Interested in a internship at TPAC? For more information click here.