Auteur: Anne Hurenkamp            Date: 5 July 2022            Source: Saxion News
River plastic that has been recovered from the river Ijssel in Zwolle, processed in Enschede and to be sold in the clothing store in Zuthpen. If all goes well, that dream will become reality in 2023. Saxion and partners succeeded in going through the entire process "from PET bottle to blouse". A world's first, says Rik Voerman.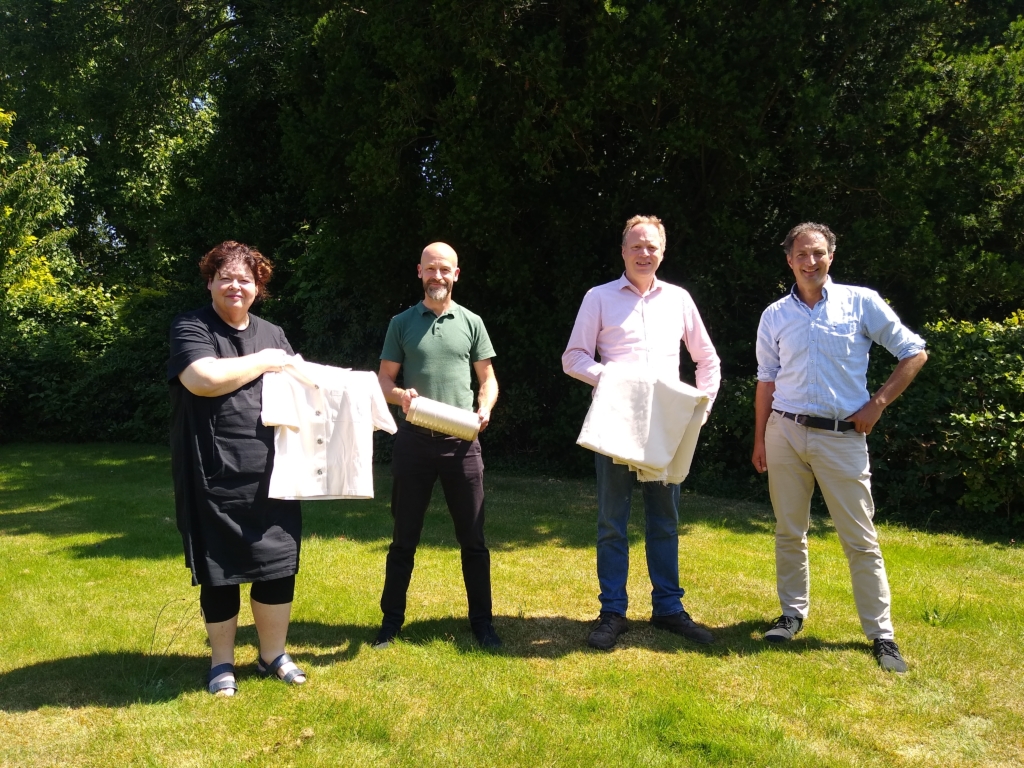 "A few parts of this process have already been investigated on a technical scale, but we have now been the first ones to realize the entire process, to prove that it is possible," according to Rik Voerman of the Saxion research group in Lightweight Structures. "From fishing PET bottles from the river near Zwolle, to making a garment. We now have a grip on the entire process for the first time. Not only from the technical viewpoint, but also when it comes to financial feasibility." Making clothing from thin-walled plastics (which also include PET bottles) is one of three sub-projects of the Post-use Plastic Foil Solutions project that started in mid-2021. In this research project, Saxion is working with regional companies to further optimize the separation, cleaning and reuse of thin-walled plastics, both technically and commercially, with the aim of recycling "difficult-to-recycle-plastics" cost-effectively.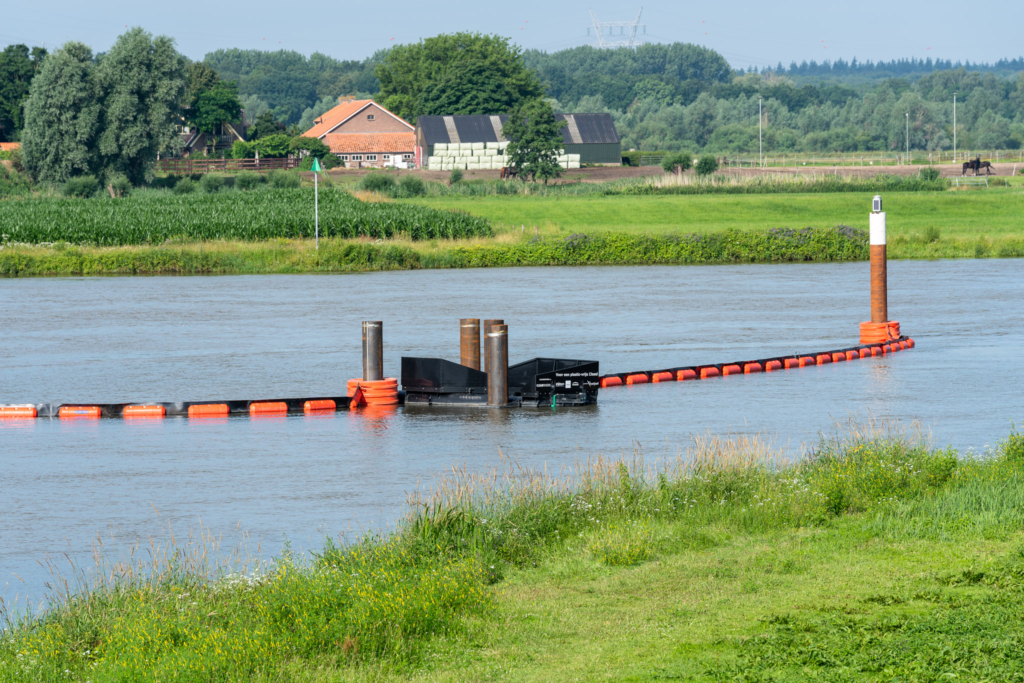 At Zwolle, the plastics is removed from the IJssel.
Finding the right balance
During the production of a few garments that still serve as prototypes, we have succeeded in incorporating the river plastics into both the yarn and the buttons, Rik explains. "A blouse now consists of 25% of PET-yarn coming from the river IJssel. The remaining 75% is still cotton. However, we can work towards a 50/50 ratio quite easily. Currently, the additional cost of such a blouse is ten euros per square meter. This is a good starting point for producing this for a target group that is willing to pay a little more for a piece of clothing that contributes locally to the recycling of plastics." One of the technical recommendations from the study is to find the right balance in the coming year between production technology and the quality requirements of the textile, says Rik. "We now have a nice, fine yarn. If that is allowed to be a little coarser, it will have a huge positive impact on the processing steps and the final price of the clothing."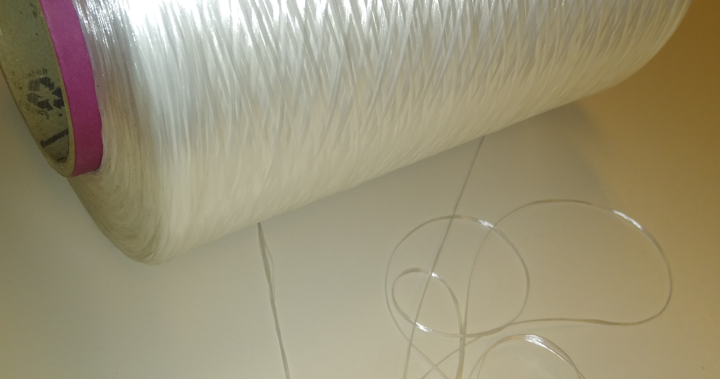 Yarn made from the plastics.
Squeezing through a kind of shower head
What happens between the recovering of the plastic and the moment when a wearable garment is ready? "Our partner Clear Rivers fishes, among other things, the Ijssel and removes the so-called PET plastics from the total catch. The material comes to our ThermoPlastic composites Application Center in Enschede, where we shred, clean and dry it. This is followed by the process in which we melt, re-filter and optimize the material. The final yarn is made with melt spinning: the plastics are pressed through a kind of shower head while molten. Subsequently, the obtained filaments are drawn and twisted together to form a yarn, to make it thinner and stronger. Then they are suitable for weaving like any multifilament yarn. The weaving then takes place at the last weaving company in Enschede, A.C. ter Kuile.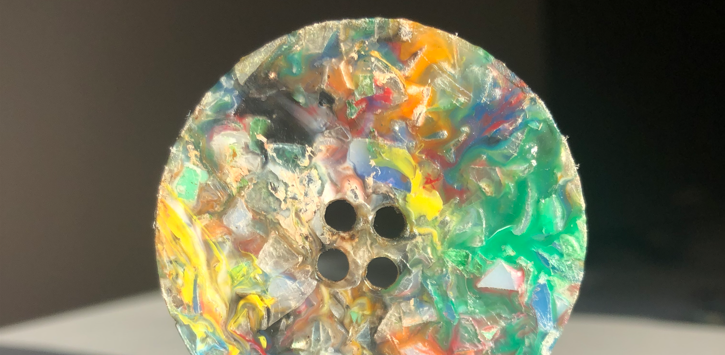 A button of river plastics
Involving students in the design
In the coming academic year, Saxion students from the Fashion and Textile Technologies program will further develop the clothing line, towards more variation in clothing and in color use. Clothing store Miramé from Zutphen is intensively involved in that process and ensures that the clothing is taken into production, says Rik. "They have clear ideas of the target group and total market for this more sustainable fashion."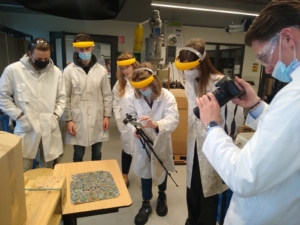 Gigantic sustainability drive
What could this step mean on a larger scale for recycling river plastics and making clothing more sustainable? "PET is a suitable material for making textiles. Molecularly it is equivalent to what we also know as polyester. By 2030, we want to be 50 percent circular in Europe. In 2050 even 100 percent. Textiles still cause a huge pile of pollution: it's a true headache to find a solution. If, in this way, we can ultimately make 40 percent of our clothing circular, that will be a huge improvement in sustainability. We have now shown that it is possible to make garments with river plastics. The cost analysis we conducted, shows that in the end it doesn't have to cost much extra to dress a lot more sustainably. If we further optimize the process and with the right government policy, that will simply become reality. Perhaps for niche markets at first, but ultimately for all of us."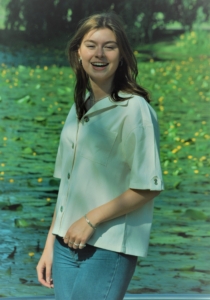 Garment out of river plastics
For more information about the Post-use Plastic Foil solutions (PPFs) project, click here.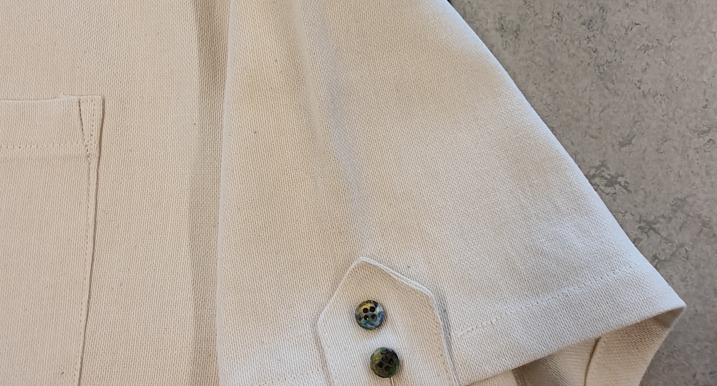 Post-use Plastic Foil Solutions

The Post-use Plastic Foil Solutions-project (PPF) contributes to the objectives of the Green Deal, towards a fully European circular economy by 2050. Saxion has co-signed the Plastic Pact drawn up for this purpose. Collaborative partners are the Saxion research group of Lightweight Structures (professor: Ferrie van Hattum), Polymer Science Park, Agrofair, Save Plastics, Clear Rivers, A.C. ter Kuile, Miramé/Riverfashion en Veolia.

The project is co-financed by SIA through its RAAK-SME program.